The lovely Jacqueline and I post our link-ups every Thursday! This week our theme is outfits that feature prints and patterns! Come back weekly to visit us! (Click after the break to link-up!)
HOW TO LINK-UP: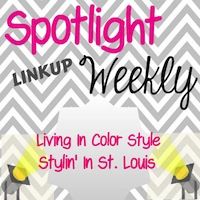 1. We kindly ask that you follow the two hosts: Elle from Living in Color Style and Jacqueline from Stylin' In St. Louis via Bloglovin or GFC, and our co-host this week is Grace from Gracefullee Made blog, so make sure to follow her too! (The first three links in the link-up.)
2. Use the button provided on Elle or Jacqueline's side bar or link back to the link-up on your blog.
3. Enjoy reading other blogs and make new blogger friends!
This week's Spotlight is Elizabeth from
Undeniably Me
! How stylish is her plaid and fur!? Make sure to stop by her
blog
to see it, and say hello!
(function() {
window.PinIt = window.PinIt || { loaded:false };
if (window.PinIt.loaded) return;
window.PinIt.loaded = true;
function async_load(){
var s = document.createElement("script");
s.type = "text/javascript";
s.async = true;
if (window.location.protocol == "https:")
s.src = "https://assets.pinterest.com/js/pinit.js";
else
s.src = "http://assets.pinterest.com/js/pinit.js";
var x = document.getElementsByTagName("script")[0];
x.parentNode.insertBefore(s, x);
}
if (window.attachEvent)
window.attachEvent("onload", async_load);
else
window.addEventListener("load", async_load, false);
})();
(function(i,s,o,g,r,a,m){i['GoogleAnalyticsObject']=r;i[r]=i[r]||function(){
(i[r].q=i[r].q||[]).push(arguments)},i[r].l=1*new Date();a=s.createElement(o),
m=s.getElementsByTagName(o)[0];a.async=1;a.src=g;m.parentNode.insertBefore(a,m)
})(window,document,'script','//www.google-analytics.com/analytics.js','ga');
ga('create', 'UA-41934175-1', 'livingincolorstyle.blogspot.com');
ga('send', 'pageview');